Upcoming events
Agency Hackers lets you meet other agency leaders, so you can learn from them – and get the inspiration you need to run your business.
To attend these events, you can either buy a ticket – or you can send somebody to all of them with an Agency Hackers membership.
---
---
Agency change and transformation
Friday 24th January 2020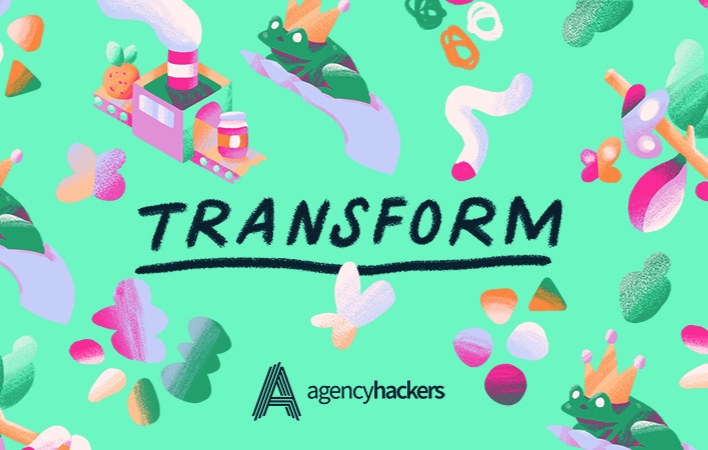 It's a cliche because it's true: if you keep doing what you've always done, you'll always get what you've always got.
Join us at Transform where we'll be hearing from people overhauling and transforming their agencies

How do you change how you work? What you do? Where you are? How you're structure? And how do you stay in business throughout? Unmissable if you have a major change or transformation project somewhere in your future.
The client services event
Friday February 21st, 2020
Question: it's 5pm one Friday when your phone rings. Which client do you NOT want it to be?
Most agencies can answer this in a heartbeat.
Almost every agency has problem clients. But one or two bad clients can make you hate coming to work.
Your relationship with your clients is the difference between a life of happiness – and a miserable existence. We're gathering a selection of clients and agency leaders for an afternoon of frank discussion about how to make agency / client relationships last.
Friday 20th March, 2020
Do you ever feel like you're revving the engine but standing still?
When you run an agency, your ability to succeed or fail has far more to do with your mind, emotions and beliefs than your website or your SEO strategy.
In hundreds of small ways, you have to believe in yourself – when nobody else does.
Head Trash is your chance to understand and overcome what really holds you back when you run a growing business.
Friday 24th April, 2020
Americans. They can't make a cup of tea and for some reason they love James Corden, but God bless America – because they LOVE British agencies.
A lot of British agencies are doing really well in America right now. Agency owners report that America is a land of open doors. People in the USA love the idea of having a UK agency, and the local competition is often stuck in the Nineties.
There are so many UK agencies finding success in the big-ole-USA right now. This event is your chance to meet them, hear their stories and start planning your stateside adventure!
Developing a product is like sex in high school: everybody's talking about it but hardly anyone's doing it.
Right now, a lot of agency leaders are tired of the endless treadmill of agency life. They want a way off the hamster wheel of…
Find a client
Service the client
Move on to the next client
They want to get paid for an idea, not the time it takes to make that idea. Imagine waking up on January 1st being able to see all your revenue for the year.
At Product Journey you'll meet agencies that are succeeding with productisation – and you'll come away knowing how to approach your own product journey.
Are you sick of puking out your guts on the "feast or famine" agency rollercoaster?
Having a healthy pipeline means you can sleep at night, and you can invest in your agency. Having no pipeline can mean you're forced to do bad work for terrible people.
At Pipeline, you'll hear from agency leaders doing interesting things to keep the work flowing.
Agency Summit 5.0 – The Agency Conference
Friday 7th August 2020
Our flagship event – stay tuned for the line-up.
Every August, over 140 agency leaders flip on their out-of-office and head to Agency Summit to gather for a full day of talks, discussions and drinks at a beautiful London venue.